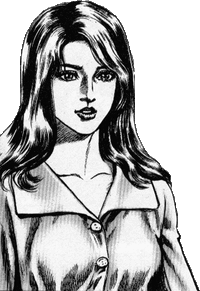 Aya Kitaōji (北大路 綾, Kitaōji Aya?)
(c.v. Aya Hisakawa)
The daughter of Takeshi Kitaōji and a student attending Professor Kenshirō Kasumi's class at the Tōwa Women's University. She is initially shown as the one who plays a prank on her professor but is easily found out. She feigns offense and cries at being insulted and is hurriedly comforted by her professor. This incites the offense of another professor aiming to become head of the university, but the "relationship" is more or less approved by the rest of the staff.
Later, when Kenshirō Kasumi leaves for China Aya gazes out to the edge of sea, clearly missing her professor. She was about to be attacked is gang members, but was protected by a young Ramon Kasumi.
In the anime she is said to resemble Pān Yù-Líng.
Ad blocker interference detected!
Wikia is a free-to-use site that makes money from advertising. We have a modified experience for viewers using ad blockers

Wikia is not accessible if you've made further modifications. Remove the custom ad blocker rule(s) and the page will load as expected.