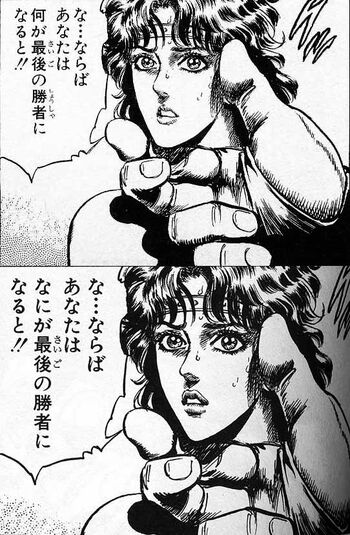 Hokuto no Ken: Kyūkyokuban (北斗の拳 究極版, lit. "Ultimate Edition"), also known as the "Extreme Edition", is a collected edition of the manga published by Tokuman Shoten under the Comics Zenon DX imprint from 2013 to 2014. Like the previously released Kanzenban edition, it retains all the colored art from the Weekly Jump prints, while also retaining the additional art made for the original tankōbon edition. It also features touched up art in some chapters, as well as the Hokuto no Ken: Last Piece story in Volume 11. Each volume features new cover art illustrated by Tetsuo Hara specifically for this edition.
External Links
Edit
Ad blocker interference detected!
Wikia is a free-to-use site that makes money from advertising. We have a modified experience for viewers using ad blockers

Wikia is not accessible if you've made further modifications. Remove the custom ad blocker rule(s) and the page will load as expected.