Kaneto Shiozawa
塩沢兼人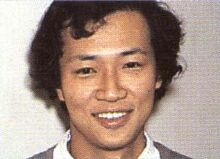 | | |
| --- | --- |
| Birth Name | Toshikazu Shiozawa (塩澤敏一) |
| Birthdate | January 28 1954 |
| Birthplace | Tokyo, Japan |
| | |
| Died | May 10 2000 (aged 46) (Cerebral contusion) |
| in | Shinjuku, Tokyo, Japan |
Kaneto Shiozawa (塩沢 兼人, Shiozawa Kaneto?, January 28, 1954 - May 10, 2000) (Real name: Toshikazu Shiozawa (塩沢 敏一, Shiozawa Toshikazu?) was a seiyū from Tokyo affiliated with Aoni Production. He had a distinctive cold, calm voice which usually typecast him in roles as villains or anti-heroes.
His stage name originated from the Japanese director Kaneto Shindō.
Shiozawa yearned to be a performer since his boyhood. He graduated from Nihon University Second Senior High School, where he learned to perform in its art department. On May 9, 2000, at around 4:00, Shiozawa fell down the stairway of his home; he later fell unconscious, and died of a cerebral contusion at 12:54am the next day. He was 46. Hidekatsu Shibata was one of the attendees at his funeral.
Hokuto no Ken (TV anime)
Edit
External links
Edit
Ad blocker interference detected!
Wikia is a free-to-use site that makes money from advertising. We have a modified experience for viewers using ad blockers

Wikia is not accessible if you've made further modifications. Remove the custom ad blocker rule(s) and the page will load as expected.