Kenji Utsumi
内海賢二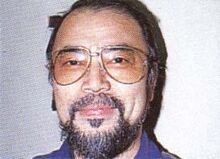 Kenji Utsumi (内海賢二, Utsumi Kenji?) (August 26, 1937 - June 13, 2013) was a Japanese seiyū from Kitakyūshū, affiliated with the self-founded Ken Production. He was married to fellow seiyū Michiko Nomura.
He is best known for his roles as Dr. Slump and Arale-chan (Senbei Norimaki), and Sally, the Witch (Sally's Papa). He was also the official dub-over artist for Steve McQueen, Sammy Davis, Jr., Victor Mature, and Robert Shaw.
He died from peritoneal cancer[1] at 3:01 PM in JST on June 13, 2013.[2]
Voice roles
Edit
External links
Edit
↑ "Veteran voice actor Kenji Utsumi has passed away". sgcafe.com. Retrieved on 14 June 2013.
↑ "Fist of the North Star's Raoh Voice Actor Kenji Utsumi Passes Away - News". Anime News Network (2013-06-13). Retrieved on 2013-06-14.
Ad blocker interference detected!
Wikia is a free-to-use site that makes money from advertising. We have a modified experience for viewers using ad blockers

Wikia is not accessible if you've made further modifications. Remove the custom ad blocker rule(s) and the page will load as expected.