Hokuto Renkitōza is a collaborative website about Fist of the North Star and its spin-offs such as Fist of the Blue Sky. The wiki format allows anyone to create or edit any article, so we can all work together to create the site. Check out the FAQ to help you get started!
For more characters, go to the List of Hokuto no Ken characters.
A failed attack on Kenshiro
Which is your favorite Fist of the North Star spinoff in the Hokuto Gaiden series?
See Poll Archive for more polls
We need images for the articles that have none. Tetsuo Hara's artwork is preferred, if applicable.
Some articles have complicated coding that need to be completely removed and reformatted into standard wiki style for easier updating.
You may take info from webspace.webring.com/people/qe/evan1975/ or Wikipedia. If it comes from Wikipedia, please alter the info if necessary to be Hokuto-centric.
You do not have to specify fiction vs. non-fiction like on Wikipedia. In-universe writing style OK.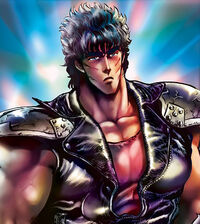 Kenshiro (
Ken
for short) is the main character of the
Hokuto no Ken
manga, anime and related media. He is the 64th successor of the
Hokuto Shinken
style and considered one of the greatest successors in its 1800 year history.
His famous catchphrase You're already dead! (お前はもう死んでいる, Omae wa mo shindeiru!?) is delivered to many an opponent he has killed before they even know it.

Create blog post
Hello, everyone!

http://fictionalcharacterbattles.wikia.com/wiki/Chars%26Verse_Fiction_Wiki

Can you join it? If you're interested in them, then here you go.

Read more >

I have been reading the HnK manga for a while and there was this one time where Lin told Kaioh how hokuto shinken makes it able for the user to learn the techniques of the opponents just form the first encounter. But wasnt that musou tensei so does …

Read more >
See more >
Ad blocker interference detected!
Wikia is a free-to-use site that makes money from advertising. We have a modified experience for viewers using ad blockers

Wikia is not accessible if you've made further modifications. Remove the custom ad blocker rule(s) and the page will load as expected.