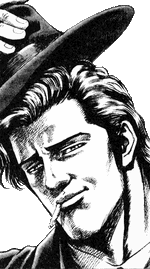 Pān Guānglín (潘 光琳, Han Kōrin?) (c.v. Masaki Terasoma)
Called the "Tiger of Shanghai" he is the leader of the Qīng Bāng and brother of Pān Yù-Líng, he was also a close friend of Kenshiro Kasumi. While Kenshiro was away from Shanghai, his Triad gang members were killed one by one. He was tortured for a period of time by Wú Dōng-Lái, losing his feet from flesh-eating rats, because Wú desired Guānglín's girlfriend Yáng Měi-Yù. Kenshiro saved his life by amputating his already poisoned feet. He now walks with two prosthetic iron shoes.
Ad blocker interference detected!
Wikia is a free-to-use site that makes money from advertising. We have a modified experience for viewers using ad blockers

Wikia is not accessible if you've made further modifications. Remove the custom ad blocker rule(s) and the page will load as expected.