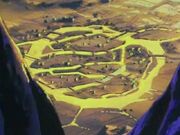 Swany Village (

スワニーの村

Suwanī no Mura )

A village featured in Episode 61 of the TV series. It was the home of Ami (Jay's fiancée). Because every man of age had joined Shu's resistance, it was home to women, children and elders. This made it a target for the Holy Emperor's forces, until Kenshiro saved the day.
Ad blocker interference detected!
Wikia is a free-to-use site that makes money from advertising. We have a modified experience for viewers using ad blockers

Wikia is not accessible if you've made further modifications. Remove the custom ad blocker rule(s) and the page will load as expected.