Takashi Ukaji
宇梶剛士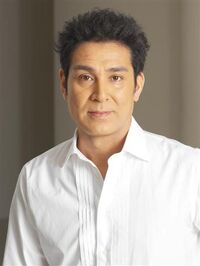 Takashi Ukaji (宇梶 剛士, Ukaji Takashi?, born August 15, 1962 in Tokyo) is a Japanese actor.
Early life
Edit
Born in Tokyo, but raised in Hiroshima Prefecture, Ukaji was the leader of one of Japan's largest bosozoku groups before becoming an actor.[1] His mother is Shizue Ukaji, a prominent Ainu poet and artist.[2]
External links
Edit
↑ "Ukaji Takashi intabyū". Engeki raifu. Retrieved on 30 March 2012.
↑ "アイヌ文化楽しんで 俳優の宇梶剛士さんのトークショー" (in Japanese). Hokkaido News Link. Retrieved on 22 October 2013.
Ad blocker interference detected!
Wikia is a free-to-use site that makes money from advertising. We have a modified experience for viewers using ad blockers

Wikia is not accessible if you've made further modifications. Remove the custom ad blocker rule(s) and the page will load as expected.