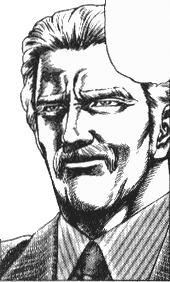 Takeshi Kitaōji (北大路 剛士, Kitaōji Takeshi?)
(c.v. Katsuhiko Sasaki)
Head of the Kitaōji Zaibatsu and founder of Tōwa Women's University. He and his daughter Aya were saved by Kenshirō Kasumi in Shanghai from Chén Jùan-Mín from an assassination attempt after his company sold weapons to the Communist Party in China. His company deals everything from arms manufacturing to opium production. Takeshi soon became friends with Kenshiro, giving him a job as a lecturer at Tōwa University. Takeshi was a collaborator in the Shangri-La Plan. He also secretly recruited Charles de Guise to support Kenshirō.
Ad blocker interference detected!
Wikia is a free-to-use site that makes money from advertising. We have a modified experience for viewers using ad blockers

Wikia is not accessible if you've made further modifications. Remove the custom ad blocker rule(s) and the page will load as expected.