Tesshō Genda
玄田哲章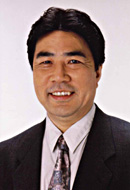 Birth Name
Mitsuo Yokoi
横居光雄
Birthdate
May 20 1948
Birthplace
Okayama Prefecture, Japan
Tesshō Genda (玄田哲章 Genda Tesshō) born May 20, 1948, is a prolific Japanese seiyu who was born in Okayama prefecture, Japan. He is most famous for providing the Japanese voice of the famous Transformer, Optimus Prime (Convoy in Japan). More recently, he plays the Nine-Tailed Demon Fox in Naruto.
In February 2010, he received a Merit Awards from the 4th Seiyū Awards.[1]
His Roles in Hokuto no Ken Include :
Hokuto no Ken TV anime
Edit
Hokuto no Ken 2
Edit
External links
Edit
References
Edit
Ad blocker interference detected!
Wikia is a free-to-use site that makes money from advertising. We have a modified experience for viewers using ad blockers

Wikia is not accessible if you've made further modifications. Remove the custom ad blocker rule(s) and the page will load as expected.