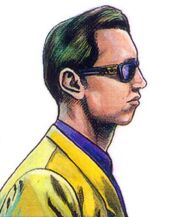 Tetsuo Hara (原哲夫, Hara Tetsuo, born September 2 1961) is a Japanese manga artist famous for drawing the series Hokuto no Ken, known in English as Fist of the North Star, which he wrote with Buronson. He also did the character designs for the arcade game Saturday Night Slam Masters.
Tetsuo Hara was born in Shibuya, Tokyo on September 2, 1961 and raised in Koshigaya, Saitama. As a child he was a fan of manga especially Fujio Akatsuka's Tensai Bakabon and Naoki Tsuji's Tiger Mask. Hara attended Hongō Junior and Senior High School and worked as an assistant to manga artist Yoshihiro Takahashi after graduating. As an amateur, he won the first prize of the 33rd Fresh Jump award for his one-shot Super Challenger. Hara's professional career began with his first published work: Mad Fighter in 1982. His first serialized work in the Weekly Shonen Jump was the Iron Don Quixote, which lasted only ten weeks in serialization. He did not achieve fame until the publication of Hokuto no Ken (Fist of the North Star) in 1983, which he co-wrote with Buronson and ran for six years. After the completion of Hokuto no Ken, he worked on shorter series and one-shots, including three different adaptations of Keiichiro Ryu's novels (Hana no Keiji, Tokugawa Ieyasu and Sakon). In 2001 he did a prequel to Hokuto no Ken called Souten no Ken, which was serialized in the Weekly Comic Bunch.
His influences include Neal Adams. His cousin is "Rocketman" Ryo Fukawa.
He suffers from an eye condition called keratoconus which left him blind in one eye, so all his work must be fixed by his assistants due to errors in perspective and he can no longer ink his own work.
Title
Japanese
Romaji
Year
Writer
Collected
Super Challenger
スーパーチャレンジャー
Super Challenger
1982
One-shot (featured in the Jump Super Ace edition of Iron Don Quixote)
Mad Fighter
マッドファイター
Mad Fighter
1982
One-shot (featured in Iron Don Quixote)
Clash Hero
クラッシュヒーロー
Clash Hero
1982
One-shot pilot for Iron Don Quixote (featured in the Jump Super Ace edition of Iron Don Quixote)
The Iron Don Quixote
鉄のドンキホーテ
Tetsu no Don Quixote
1982-1983
2 tankōbon
Fist of the North Star
北斗の拳
Hokuto no Ken
1983
2 one-shots (featured in Tetsu no Don Quixote Vol. 2)
Fist of the North Star
北斗の拳
Hokuto no Ken
1983-1988
Buronson
27 tankōbon, later reassembled as 15 aizoban/bunkokan editions and 14 kanzenban editions.
Cyber Blue
サイバーブルー
Cyber Blue
1988-1989
Bob
Ryuichi Mitsui
4 tankōbon
Keiji of the Flowers: On the Other Side of the Clouds
花の慶次 ―雲のかなたに―
Hana no Keiji: Kumo no Kanata ni
1990-1993
Keiichiro Ryu
Izumi Fujimori
18 tankōbon
The Hitman
職業兇手
Zhí Yè Xiōng Shǒu
1993
One-shot
Doppelganger Tokugawa Ieyasu
影武者徳川家康
Kagemusha Tokugawa Ieyasu
1994-1995
Keiichiro Ryu
Shō Aikawa
6 tankōbon
The Blazing Palm
火焔の掌
Kaen no Shō
1995
One-shot
The Mighty Ryūsei
猛き龍星
Takaki Ryūsei
1995
3 tankōbon
When The Pyroxene Burns
輝石燃ゆる時
Kiseki Moyuru Toki
1996
One-shot (featured in Aterui Nisei Vol. 1)
Chase
チェイス ―追跡―
Chase: Tsuiseki
1997
Buronson
One-shot
Sakon: Record of the Upheaval of the Warring States
左近 -戦国風雲録-
Sakon: Sengoku Fūun Roku
1997-2000
Keiichiro Ryu
Shingo Nihashi
6 tankōbon
Hydra
九頭龍
Hyudora
1997-1998
Tadashi Ikuta
1 tankōbon
Misappropriation Investigator Rintarō Nakabō
公権力横領捜査官 中坊林太郎
Kōkenryoku Ōryō Sōsakan Nakabō Rintarō
1998-2000
2 tankōbon
Aterui II
阿弖流為Ⅱ世
Aterui Nisei
2000
Katsuhiko Takahashi
1 tankōbon
Fist of the Blue Sky
蒼天の拳
Souten no Ken
2001-2010
Nobuhiko Horie
22 tankōbon
Child of War: The Legend of Oda Nobunaga
いくさの子 織田三郎信長伝
Ikusa no Ko: Oda Saburō Nobunaga Den
2010-
Nobuhiko Horie
3 tankōbon
Non-manga works
Edit
Tetsuo Hara artwork
Edit
Rank Kingdom
Edit
In 2014, Tetsuo Hara was a guest on the ranking show Rank Kingdom (ランク王国, Rank Ōkoku) and listed his personal Top Five Hokuto no Ken characters, villains and death cries (断末魔, danmatsuma).
Top Five Characters:
Top Five Villains:
Top Five Danmatsuma:
HIDEBU! (ひでぶっ!!)
TAWABA! (たわば!!)
ABESHI! (あべし!!)
DOEHEPU! (どぉえへぷ!!)
UWARABA! (うわらば!!)
External links
Edit