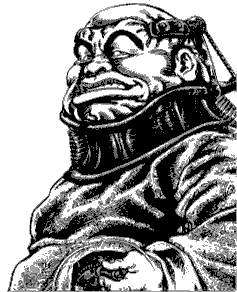 Wú Dōnglái (traditional Chinese: 吳東來; Cantonese Jyutping: Ng4 Dung1 Loi4; Wade-Giles: Wu Tung-Lai; Japanese: 呉東来; rōmaji: Go Tōrai)


(c.v. Chafurin)
The Number Four Boss of the Honghua Hui comes from Kwangtung Province. Due to injuries he suffered at the fists of Yán Wáng (Kenshirō Kasumi), he is wheelchair-bound and must wear a metal contraption with a crank to raise and lower his head. Jumpy and triggerhappy, he'll shoot anything that bothers him. A slovenly womanizer, Wu desired Pan Guanglin's actress girlfriend Yang Meiyu. The insanely jealous Wu held Pan in his dungeon, intending to use him as the "tiger-meat" in his Cantonese "Dragon-Tiger Stew". Wu never got the chance, because Kenshiro knocked Wu into his own boiling cauldron, killing him.
Ad blocker interference detected!
Wikia is a free-to-use site that makes money from advertising. We have a modified experience for viewers using ad blockers

Wikia is not accessible if you've made further modifications. Remove the custom ad blocker rule(s) and the page will load as expected.