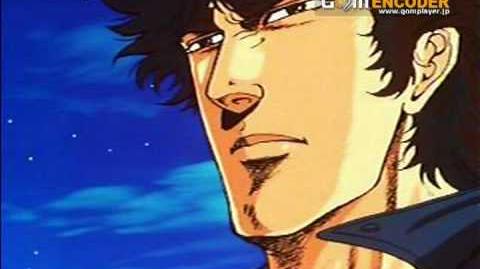 Jikan no naka de ikiteru
Kodoku na sasayaki
Tesaguri no naka oboeta
Nukumori to sabishisa
Mabushiku kagayaku
Omae no karada dakiyose... ima

Sō sa ai suru hito niwa toki wa nagare
Samayō kokoro ni ashita wa mienai

Hikari no naka de yureteru
Omae no hohoemi
Ashioto dake o nokoshite
Yami ni kieru SILHOUETTE
Mitasare habataki
Megami ga senaka mukete... ima

Dakara kyō yori asu yori ai ga hoshii
Yume yori ai suru kimi ga hoshii subete ga...

Living in the center of time
An isolated whisper
Grasping for memories
Of warmth and lonliness
Shining radiance
To embrace your body...Now

And so for lovers Time flows
For the wandering spirit tomorrow cannot be seen

Flickering inside the light
Your smiling face
Leaving behind only footsteps
The darkness vanishes in your silhouette
Flapping wings of satisfaction
The goddess turns her back...Now

And so from today from tomorrow I want your love
From dreams I want your love...all of it

Ad blocker interference detected!
Wikia is a free-to-use site that makes money from advertising. We have a modified experience for viewers using ad blockers

Wikia is not accessible if you've made further modifications. Remove the custom ad blocker rule(s) and the page will load as expected.